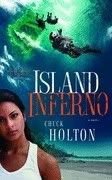 This is one cool book! But it's #2 in a series, so it took me a little bit to figure out who was who and what was what.
When I finally put the pieces together, I enjoyed myself. Chuck Holton knows his stuff...a former Army Ranger, mililtary copter pilot, and stockbroker, you can feel the authenticity in his writing.
Task Force Valor has a new mission: to find out where a new liquid explosive is coming from, and to stop it. In the midst of the Panama jungle, the team sets out to explore Isla Coiba, a remote island that holds more than they bargain for.
Fernanda Lerida and her exploration team are merely on an expedition to the mysterious former prison island, and are captured by pirates. The two groups intersect and they find themselves caught in the midst of a brutal turf war and uncover a plot that catches them all by surprise.
TFV is full of characters that are both entertaining and humorous. This is a great group to have working on our behalf...and I'm sure are good representatives of the true men and women in our armed services.
I loved Fernanda...and how can you not love a soldier named Euripides?? But call him Rip...he likes that:-)
"Island Inferno" gets 4 out of 5 bookmarks from me, with a butterfly charm...and again, you'll have to read the book to find out why! Now, I'm off to order book #1 so I can know what I needed to know before I read this one!!
Happy Reading!
Deena