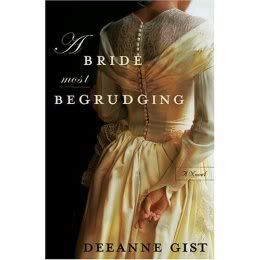 I'm a little behind the curve on this, but I picked up "A Bride Most Begrudging" by Deanne Gist and thoroughly enjoyed it! This was an entertaining historical romp through Revolutionary times.
Lady Constance Morrow is unlike any women, in England or in the New Land across the seas...and being kidnapped as a tobacco bride gives her the chance to prove it. When a corrupt sea captain orders her chained, she sails to unknown lands.
Drew O'Connor just wants to build what his father began before his untimely death as an early colonist. He's looking for help--indentured servants--and gets far more than he bargained for in Constance!
This is more than a love story. We are reaping what our forefathers have sown, and it is all too easy to forget the hardships they endured in order to found this country. With historical accuracy coated in humor and romance, Deanne Gist has penned a novel well worth the reading.
"A Bride Most Begrudging" gets 3 bookmarks from me, with a bonus calculator...don't ask me why...just read the book:-)
Happy Reading!
Deena