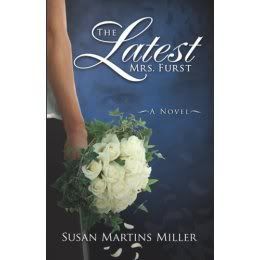 This is the most disturbing novel I've read in a very, very long time.
"The Latest Mrs. Furst" is the story of Jayne Paige-Hamilton and her relationship with Mitchell Furst. Jayne is a divorced woman, and her only child died in infancy. She has lived alone for quite awhile, and wants companionship and relationship.
Enter Mitchell Furst. He treats her like fine china, pampering her and spending time with her, winning her affection and eventually her heart. Soon the two are engaged to be married. And all is right in Jayne's world.
Or is it?
Where is Mitchell when she tries to call him? When he cancels dates and misses appointments? Why hasn't she ever been to his house? And will she ever meet his family?
This story struck a little too close to home. Of all the women in my family, I'm the only one to marry once, and to marry for life. I'm the only one in a healthy marriage, to a Christian man (he's my pastor), and to have a reasonably stable life.
So reading what Jayne deals with made me uncomfortable. I came too close to be another in a long line of women who made a bad choice that affected them for life. So I recommend this one cautiously...not because it is poorly written or the characters are flat...
No, for the exact opposite. What Jayne feels, you'll feel. Where Jayne goes, you'll go. And when Jayne meets Jesus...well, you'll be glad you've known Him all along...or long to have what Jayne has.
"The Latest Mrs. Furst" gets 4 bookmarks from me. And prayers of thanks, for "There but for the grace of God went I."
Happy Reading!
Deena