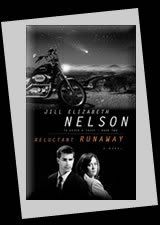 FBI Agent Tony Lucano and security expert Desiree Jacobs are back and on another case of stolen artifacts in "Reluctant Runaway". This fast paced rollercoaster ride takes us to New Mexico and deep in the Anasazi belief system.
Desi's best friend and business partner, Max Webb, has a big problem. Her niece has vanished, leaving her husband and baby behind with no warning. Foul play is suspected, so Desi and Max head down to New Mexico to investigate--the theft of Anasazi artifacts from the museum, and hopefully to uncover clues in Karen's disappearance.
Tony is hot on his own case, and tragedy strikes close to home. But he holds back on confiding in Desi, just as she avoids sharing her concerns with him. For awhile I thought the title of this novel should have been "Reluctant Romance"!
But as they unravel the mystery, they also discover the issues that hold them back. Eventually, their investigative paths cross, and the two end up working the same case.
Danger dogs their every step, and by the end, life hangs in the balance...but for whom? Who is really behind the museum theft? Why did Karen disappear--and what does her dad have to do with it?
And what is up with all the truck drivers--who don't really exist??
The message of faith is loud and clear, and the gospel is unmistakable. Temptations are faced, and God is honored through the events in this tale. And, fortunately, that title I mentioned earlier? We can forget about it...the next novel is called "Reluctant Smuggler" and is due out October of this year.
Maybe by then, Tony will have this romance thing down to an art! He will if Desi has anything to say about it!
While I find myself more invested in this series, I still would like to know more about Tony and Desi, and to have their characters fleshed out beyond the workplace. I adore Max, but even she needs a little more detail for my liking.
However, the mysteries and investigations are unique, and the concept is cool. This story is more mulilayered than the last, and I enjoyed it thoroughly!
"Reluctant Runaway" gets 3 bookmarks from me with a bonus tassel and a portrait charm...a worthwhile investment, and now I need to hire HJ Securities to protect it for me!
Happy Reading!
Deena