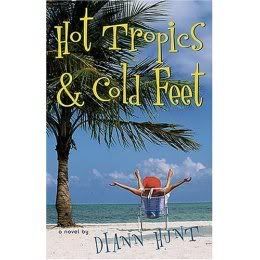 This is my kinda book!! Diann Hunt writes chick-lit for the forty-something plus crowd, and I love it!
"Hot Tropics and Cold Feet" is the sequel to "Hot Flashes and Cold Cream", but the two are loosely tied together. In this one, Maggie's best friend is about to be married for the second time--maybe.
Cold feet strike, and the Latte girls (Maggie and her three friends) take off for a mind clearing vacation in Siesta Key, Florida. From the meet and greet with Gator George to the supposed sightings of Donny Osmond (yes, THAT Donny Osmond:-), this story is packed with hilarious adventures reminiscent of Lucy and Ethel, times two!
Each of the quartet of female friends has issues of her own to deal with. I won't share what they are, since that kind of ruins the fun of reading...but they are all issues women 40 and over face in their lives.
I love these novels because, while I love the chick-lit genre...my career is pretty well set and my marriage has a lot of miles on it...so it's hard to relate to those just starting out in life.
But hot flashes, chin hairs, and wrinkles...now THOSE are things I can relate to!! And if you're in the same age bracket I'm in, you'll roll with laughter even as the tears flood your eyes.
Enjoy romping the shores of Florida with Maggie, Jill, Louise and Lily--and you can find out more about this gaggle of giggling gal-pals by picking up a copy of "Hot Flashes and Cold Cream", the story that started it all.
After all, you won't get the joke about the bushes unless you do;-) "Hot Tropics and Cold Feet" gets 4 bookmarks from me, with a gator charm...gotta love George!! And don't miss out on "Be Sweet", a new novel from Diann Hunt, releasing this summer!!
Happy Reading!
Deena