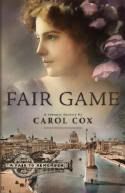 I must admit, I probably wouldn't have read this one if I hadn't been asked. But Carol Cox has created a series around the World's Fair in Chicago, Illinois.
Dinah Mayhew has come to Chicago to find work and to reconnect with her father. She gets far more than she bargained for; she finds her life's calling and reconnects with her Father, and falls in love.
Seth Howell doesn't think much of Dinah at first glance, but time and effort prove her to be valuable to the ministry he's been called to with the poor of Chicago.
Thrown into the mix is a mystery...why are so many young women vanishing, and who's behind it? Are they all leaving for a better life, or is something sinister going on?
And when Dinah's cousin Gladys shows up, the claws come out and rivalry becomes heated...until Gladys disappears...or does she?
This series is enjoyable, but not my cup of tea. The characters are well developed and the storyline is entertaining, with the message of faith clear and well defined. For a historical novel, it is worth the reading.
"Fair Game" gets 3 bookmarks, with a tiny Ferris Wheel charm...just because I can!
Happy Reading!
Deena