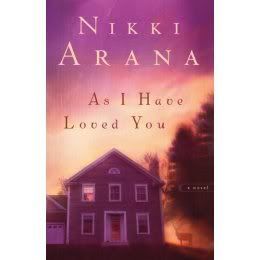 Ever read a novel and enjoy it, but not be able to put your finger on why? That's kind of how I feel after finishing "As I Have Loved You" by Nikki Arana.
Leigh Scott is a single Christian mom struggling to make her life work. An author, she keeps working and searching for that one novel that will speak God's heart. She only wants what is best for her only son, and will move heaven and earth to achieve it for him.
Jeff Scott has struggled all his life with ADD. A social misfit and outcast, he found a special calling on his life from God--to reach out to those like him, society's rejects and unwanted, and to show them the love of Jesus.
So, when he meets Jessica, that's how it all starts. But soon things take a turn that no one expected, and Jeff's life strays from God's path for him.
Leigh's life isn't doing much better. Her old love has re-entered her life, her father's cancer has returned, and now an unexpected secret from the past has come to light, changing everything.
The story is excellent; the message is kind of muddy, though. This is very personal to Nikki Arana...that much is evident. You can feel her heart and soul through the pages, and she is intent on conveying her message to the reader.
So, this is what I received from this story: even the good things in our lives, the good that we do and achieve and recieve...if it is apart from God's will, ultimately it means nothing.
For all the good each character in this story attempted, all that they did apart from God failed. It was only when each surrendered as an empty vessel for His divine use that their plans and lives were well-ordered again.
There's also some discussion about the Holy Spirit and the gifts He gives each believer...I found that part intriguing, but it wasn't central to the message of the story for me.
I encourage you to take a chance on this book. I've never read anything else Nikki has written, but this was a good place to begin with her talent. "As I Have Loved You" gets 4 bookmarks from me. I'll be thinking about the message of this novel for a long time...it just sticks with you.
Happy Reading!
Deena