Well, I'm not running out of books, but we are running out of time! Only a couple of weeks left before Christmas day, so let's try to get some more books under your tree, shall we?
Offering #1 is a duo of Christmas novellas by author Robin Jones Gunn: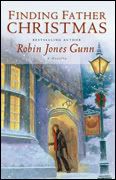 Click for reviews!
Offering #2 is a double pack of a Christmas and a New Year's Book:
RULES ARE: You can only enter for set #1 or set #2. If you say "I'll take both", I'll have to disqualify you. YOU MUST PICK A SET and leave it in your comment.
Winners announced next Saturday!
Happy Reading!