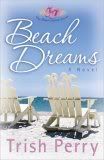 I've been a fan of Sally John's writing for a long time and I loved her '
Beach House'
series. But I was disappointed to only find two novels in the series.
I've also been a fan--a HUGE fan--of Trish Perry's novels. Again, though, I was disappointed to only find two novels in her series.
So imagine my delight when I heard Trish was writing a follow up story to Sally's original series, and bringing back her beloved characters, as well as tossing in a few from "
The Guy I'm Not Dating
" and "
Too Good To Be True
"!
Tiffany LeBoeuf finally gave up her 'mean girl' status at the end of "Too Good To Be True" and surrendered her life to Christ. After returning home to care for her ailing mother and then losing her to cancer, Tiffany's come back to Northern Virginia and to her friends, Kara and Ren.
Problem is, life didn't stop and wait for her return. Her job is gone and she feels adrift even among familiar friends. So when Ren's suggestion of the beach house in San Diego comes up, it sounds perfect for Tiffany.
Jeremy Beckett, Ren's fellow school teacher and dear friend, has been looking for the perfect woman. After dating for several years, he believes he's finally found Miss Right. So then why does Tiffany bug him so much?
In a grand gesture, Jeremy rents the beach house for two weeks and gifts the time to his girlfriend, Eve. Unfortunately, due to a reservation error, those happen to be the two weeks Tiffany and her dad are staying there!
Trouble ensues, and poor Jeremy ends up making the journey to San Diego himself to help straighten things out. But more surprises await him, and nothing turns out the way he thinks it will.
You can see the resolution to the story coming a mile away, but it's still fun to watch it unfold. Watching Tiffany grow in her faith reminds me of the struggles I've had along the way, and cautions me to be encouraging to new believers.
I don't know if we'll see more of the beach house or these fun-filled and engaging characters, but I most definitely appreciated getting in touch with them one more time! I'm giving "Beach Dreams" three out of five bookmarks with a house key and a flip flop (bonus charm).
This is the perfect vacation read! And don't miss the other stories in this blended series:-)
Happy Reading!
Deena