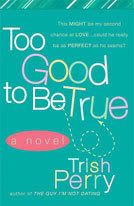 I have this weird, quirky habit when it comes to books.
I lurk at Christianbook.com, watching to see when the newest releases from my favorite authors are due to be released. I get all excited, anticipation building...and when it comes out I run out and buy the book, happy to have a new read.
Then I put it on my shelf, not wanting to read it too quickly, because, after all, it will be months before he/she writes something new...I know, weird, huh??
But that wasn't the case with Trish Perry's "Too Good to Be True" (maybe I've learned that the new releases tend to pile up if I don't read them as I get them??)...I was so excited about this one that I bought it on Friday, began reading it on Saturday...and I'm reviewing it today!
This is the story of Ren Young, divorced for one year and aching to adopt a young boy in her second grade class, named Casey. Overwhelmed by emotion, she faints in, of all places, Wal-Mart...Watch out for falling prices, indeed!
Coming to her rescue is her dark night in shining ambulance, labor and delivery nurse Truman Sayers, aka "Tru". What follows is a courtship like no other, with twists, turns, and laughter along the way. A few sharp curves are also tossed into the mix, leaving the reader pondering the possibility of a romance between....(I'm not telling!).
I totally devoured "The Guy I'm Not Dating", the first Trish Perry novel I found. I enjoyed "Too Good" as well, but not in the same way. This novel had a more serious feel to it. Maybe because Trish was dealing with more serious subject matter such as adoption, infertility, and divorce recovery.
While "The Guy" was a wild road trip of fun and laughter, "Too Good" was a journey to self-acceptance and healing of a variety of hurts. Don't get me wrong...there was a lot of humor in this one as well--I do believe Kara and Ren are the Lucy and Ethel of Christian Fiction!!
I highly recommend anything Trish Perry writes and I give "Too Good To Be True" a full five, yes, count'em...five bookmarks!!
Happy Reading! And write faster, Trish!!
Deena