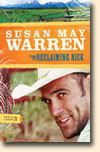 I had not planned on reading this book. Even though I adored Susan's last novel "Everything's Coming Up Josey", I was going to pass on this one. Remember me, the reader who doesn't like westerns?? This is a modern day western, and they just don't appeal to me.
Silly girl, westerns are good readin'!! "Reclaiming Nick" is the story of the prodigal son, the story of Nick Noble and the Noble family. This is the first in a series, and we meet Nick as the son who left home in anger and never looked back.
Nick's father, Bishop Noble, has died, and he has left some interesting details in his will...details that don't set well with Nick. He chooses to return to his home, the Silver Buckle Ranch, to reunite with his sister, Stephanie, and to settle some old scores.
But Stephanie nails it on the head when she tells him, "Thank God He finally brought you home." What ensues is God's pursuit of Nick, of Piper, of Cole...of anyone who has gone their own way, leaving God for what they think will bring them happiness or fulfillment, only to return and find that His ways are not our ways, and He is able to do great exceedingly above all that we ask or think.
Someone wants the Silver Buckle to go under, and will stop at nothing to see it happen. Secrets wait to be discovered, and love is blooming in unexpected places.
Nick's story is my story...it is your story...just with cattle round-ups, branding, and all things cowboy. I am in love with the Noble clan...except for Rafe...we meet him in novel #2, and it is already on my wishlist.
"Reclaiming Nick" gets four bookmarks!!
Happy Reading!
Deena