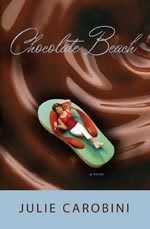 Of course I'd pick up this book...chocolate...beach...hello!! Sign me up! LOL!
Chocolate Beach is Julie Carobini's debut novel, and an impressive debut at that. Bri Stone is a laid back beach bunny, married to a high powered and impressive lawyer by the name of Douglas. He is attracted to her free-spirited approach to life, and she is attracted to his stability...not to mention his good looks.
However, they have both grown older, and have a 13 year old son. Does free-spirited living really work now? Does respectable have more of a ring of truth to it? And why is Douglas gone so much.
"Chocolate Beach" is a novel about the importance of communication in relationships, especially marriages. It is a novel about listening to your heart, and being true to who God created you to be. All too often we are like Bri, remaking ourselves into the image of what we perceive others want, and we end up losing the very thing God custom designed us to be.
Bri also has a wacky gal-pal named Gaby, who's looking for love in all the wrong places...and if I read this novel correctly...**sniff**sniff**...I smell a sequel coming on!
This is a wonderful chick-lit read, packed full of humor and the ever-present disapproving mother-in-law (this seems to be a common theme in a lot of the Christian fiction I'm reading...am I missing something?? We both love our mil's...don't we honey??). Julie Carobini is an author to watch...hoping for more from her PC soon...
Now, I gotta go make some brownies...have a sudden craving for 'em!
"Chocolate Beach" gets four chocolate...I mean, four bookmarks from me!
Happy Reading!
Deena
P.S. I was right!! Gaby gets her own novel, "Truffles by the Sea". Hah! My nose is never wrong!!