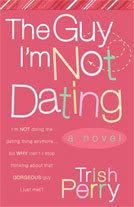 I can't leave you on such a down note (see my review of Balancing Act). Here's a bonus review of a book I read in December:
Kara Richardson has decided not to date anymore. After all, she's made some pretty bad dating decisions in the past, and now she wants what God wants. But that decision couldn't have come at a worse time…
Enter into Kara's life...Gabe Paolino, deli owner and the man of her dreams...if she were still dreaming of men, that is. What follows is a hilarious and touching "not dating" ritual dance that really is what love and relationships are all about.
Through a series of mishaps, Kara and Gabe end up on a wacky roadtrip with his family and her friends. A weird aunt, some cool parents, and a lot of fun round out this mis-adventure.
What is so great is Kara's genuine desire to follow God and wait for His best, and Gabe's sincere desire to help her fulfill that commitment at the expense of obviously being attracted to Kara. When a man helps you grow as a child of God, he's a keeper, ladies!
You adore Kara, you fall for Gabe, and you hear the cry "Road Trip!" as you finish this wonderful story. I am excited to read the sequel...which is due out this summer.
Don't miss out on "The Guy I'm Not Dating." This one is a keeper and a half...one I'll be reading again, just to experience the joy of road trips ala Paolino!
Deena