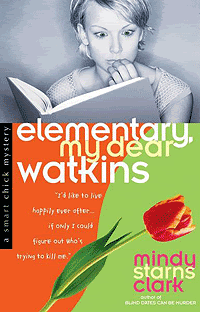 "Elementary, My Dear Watkins" is the conclusion to Mindy Starnes Clark's trio of novels in her Smart Chick series. A fact I quickly mourned...I love Mindy's novels.
Jo Tulip is a helpful hints columnist. Danny Watkins is her best friend and her new love. While he is abroad in Paris, fighting for the success of his career as a photographer, she is back home in New York, fighting for her...life?
It seems someone wants this Smart Chick permanently silenced. But who? A family member? A company employee? Or could it be "Toaster Boy?"
As usual, Jo Tulip does not sit quietly and let others unravel this mystery. And it is quite the mystery. Don't be disturbed by not knowing why Alexa is living with Grandmother Boswell...you aren't meant to know right away.
This is a crafty storyline, ending most satisfactorily. Although I was disappointed by only three novels in this series, I was pleased with the outcome.
Don't miss out on "The Trouble With Tulip" and "Blind Dates Can Be Murder", books one and two in this series. And be sure to pick up her other series, The Million Dollar Mysteries...
"Elementary, My Dear Watkins" gets a full five bookmarks...the whole series does!!
Now I have to go email Mindy to ask what's next..........
Deena