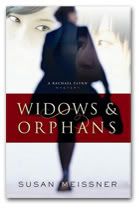 A new mystery series has begun! Meet Rachael Flynn, attorney at law and mother of 6 month old McKenna. While on maternity leave from her firm, she gets a frantic call from her mother...
Her younger brother, Joshua, has confessed to murder.
But how could he have done it? Did he do it? Or is he covering for someone else...one of the widows and orphans he has vowed to care for?
It's up to Rachael and her artist husband, Trace, to find out the truth.
This is a fun yet serious new series of mysteries by one of my favorite authors. "Widows and Orphans" is a departure from her other novels, but I enjoyed it just as much. Fig is a funny and heartwarming character, and I was immediately invested in the Flynn family struggles.
The dialogue is true, the writing flows like water, and the mystery unravels at a fast pace. The end is not what it seems...I will tell you that much. And the good news is book #2 is already on shelves...including mine!
This new mystery series is on par with Terri Blackstock and the other mavens of inspirational suspense. You won't be disappointed by this novel...
Happy page turning!
Deena