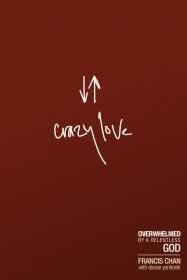 Do you like reading books that plow into your heart and turn your life upside down? Books that take you out of your comfort zone and plunge you into the icy waters of the unknown? Books that challenge you to rise above the norm and do something that might be considered...crazy?
If so, then you HAVE to read this book! My husband warned me, but when do I ever listen?? LOL!!
"Crazy Love" is by Francis Chan, pastor of Cornerstone Church in Simi Valley, California. In his book, Pastor Francis asks the question, "Have you ever wondered if we're missing it?" By 'it', he means the real purpose we are here on earth to fulfill.
With that single question, he took me places I secretly longed to go in my walk with God, but was desperately afraid to visit. With chapter titles such as "Stop Praying", "You Might Not Finish This Chapter", and "Profile of the Lukewarm", his book isn't for the faint of devotion.
Pastor Francis challenges our belief in the American Dream, calling it a deception to keep us from our true purpose. He tells stories of men who sold their homes in order to give more to ministry, who stepped away from lucrative jobs to pastor...stories of women who gave their lives ministering to the "throw away" societies.
Stories that will pierce you like an arrow, pointed straight at our mediocrity and complacency as the church.
Unlike many other books of its kind, "Crazy Love" doesn't bash the church. Instead, you can feel Pastor Chan's love for the church and his desperate desire to motivate us, to wake us up from our consumerism stupor to see the needs in the world and our ability to be hands and feet.
This book has left me SO unsettled, but my husband and I have both read it and now we're praying God make it alive in us and in our family. Some scary decisions are ahead (I'm leaving my employed position to blog full-time with NO PAY--this is my passion and my heart), so keep us in prayer if you would, please.
You cannot read this book without both wanting to throw it and finish it at the same time. You cannot help but see yourself in the pages as he points out how much we've settled for so much less. And you cannot help but want to go where Pastor Chan points--into the unknown, wilds of "Crazy Love".
I'm awarding "Crazy Love" the Golden Bookmark, and challenging every reader to get this book, devour it, highlight it, and then live it. I'm ready to go "crazy" in my "love" for Christ...how about YOU??
Happy Reading!
Deena