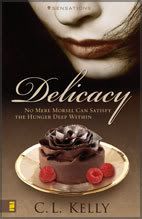 In his phenomenal series, "Sensations", C. L. Kelly tackles each of the five senses, devoting over 300 pages to suspense and mystery that both captivates and intrigues. In his third novel, "Delicacy", Kelly once again has written a definite hit.
Cassie and Nick Dixon are finally past the fragrant debacle of their failed perfume venture, and have grown grounded in their faith as well. Inspired by their spiritual mentor, Father B, they have founded Taste of Success and they are now tasting their own success with this venture.
Taking the homeless and the addicted off the streets, the Dixons train them to work in the food industry at the highest levels, and have a high success rate. Their program is an enrichment to the community of San Francisco, and a ministry effort that deserves notice.
But not the kind of notice someone in particular is giving...someone who is desperate to shut Taste of Success down. And someone who will stop at nothing to succeed.
Who is behind the events designed to bring Taste of Success and the Dixons crashing down? Will they succeed in destroying the ministry and business that brings hope into the homeless community? Can Cassie and Nick survive another attempt on their reputation...and their lives?
"Delicacy" is the kind of delectable novel that will have you begging for another morsel of fiction from Mr. Kelly. While not nearly as terrifying as "Scent", and that isn't necessarily a bad thing:-), "Delicacy" has it's own distinct flavor that is extremely satisfying.
I'm giving "Delicacy" five out of five bookmarks, with a silver spoon as a charm...just have someone test the dessert before you dive in:-) I absolutely adore Father B, and wish we had more ministers like him in the church...see if you don't fall in love with him as well.
I can't wait to see what C.L. Kelly cooks up next, but I'm sure it will be superb. To read my review of "Scent", click
here
. For my review of the second novel, "Echo", click
here
.
Happy Reading!
Deena