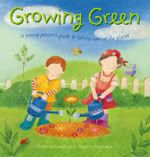 When you read Genesis, you realize that ecology is a responsibility we've been given by God. Even though some go a bit overboard, as believers, we do need to care for the home we now occupy.
"Growing Green" is a fun way to teach our children about taking care of where we live. From appreciating what we have to taking care of our environment, Christina makes learning about caring for our world fun.
Lots of discussions are possible with this creative book. Great for unit studies with home school students or even in a Sunday School class, "Growing Green" is full of ideas for projects that are easy to implement.
Topics include recycling, gardening, and just watching where we walk. Not only is the book gorgeous, but it's fun to read as well. The illustrations are sweet and very colorful--the book has great eye appeal.
I'm giving "Growing Green" five out of five bookmarks with a package of seeds...I still remember gardening with my family, and those are some of my best memories!
Happy Reading!