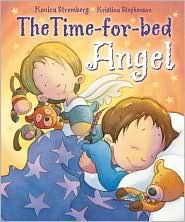 Have a little one who struggles with bedtime? Or is a huge mischief maker? This is a beautiful children's storybook for just such a child!
"The Time-For-Bed Angel" tells the story of Andrew and his guardian angel, Sam. This little fellow wanders in and out of mess after mess, with poor Sam flying along behind as quickly as possible.
Mom is wearied and most definitely ready for bed--for Andrew! Ever feel that way?
But Andrew has to have his nighttime ritual--his bedtime socks, his special bedtime toys--and Sam flitters nearby helping to clear up the piles Sam constructs.
With fun and beautiful illustrations, I can see this becoming a favorite bedtime storybook. The faces are just the sweetest, and the story is interactive. I seriously love this book--now if I only had a grandchild to share it with!
I'm giving "The Time-For-Bed Angel" five out of five bookmarks, with a soft, cozy pillow as a charm. This makes a wonderful Christmas gift for moms, dads and grandparents.
Happy Reading!