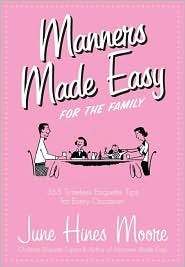 I love books that make being a mom a tad bit easier! And this little pink book takes the guess work out of teaching manners, while making it a fun family event!
"Manners Made Easy" is designed to encourage family time. This book is perfect to use at family dinner (another plus, as it encourages family dinner--a dying event in today's rush and go society), with a page a day layout.
Filled with practical, no nonsense tips like: A guest should always offer to help once the meal is done--June follows up with suggested ways to implement each 'manner' taught.
Some of these things we grew up knowing. Some, unfortunately, we've forgotten how to practice. And some are from waaaayyyy back when people were more gentile and polite--oh, for those days again!
June covers areas of "meeting and greeting", "making introductions", "telephone manners", the perfect guest", the gracious host", and two of my favorites: "church manners" and "electronic etiquettes"!!
She really does cover it all!
My one complaint is the binding. After a handful of uses, it cracked and pages spilled everywhere. So take care of your copy, as this is a book you'll want to last and pass down to family members as they have families of their own!
This is a great gift for families, a fun idea for large families to enjoy time around the table, and a handy pocket sized edition you can take anywhere. As a mom of two teens, it's a MUST for me.
Especially as a pastor's family--always under the spotlight, even when we're "not", you know?? So, I'm giving "Manners Made Easy" five out of five bookmarks with a tiny place setting as a charm.
As a bonus, check out June's B&H page
here
.
Happy Reading!
Deena