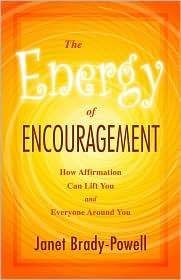 God has done it again! This is one I've wanted for some time, and it was exactly what the Great Physician ordered...you cannot read this book and NOT be lifted up!
"The Energy of Encouragement" is an examination of what encouragement is and what it can do for the believer and for the body of Christ. Janet Brady-Powell's book is a dream come true for her, and her learning and joy radiates on every page.
She talks about how encouragement is Christian, is investment, and is love. She also examines imitation encouragement...those false attitudes that bring more harm than good...know what I'm saying??
And it is SO necessary! We live in such a negative, mean-spirited and fear-filled world. What a breath of freshness from God's Spirit came into my life just from HOLDING this book!
I'm also thrilled to report that Janet knows her Bible! A student of Greek and Hebrew, her application of Scripture is masterful, and supports every point she strives to make in these short, easy to read chapters.
VMI Publishing has done a magnificent job of creating the perfect cover that embodies the message of Janet's book. And we DO serve the God of encouragement, as Janet demonstrates in the final chapter of her book.
My only wish is a larger audience for "The Energy of Encouragement". May I encourage you to pick up a copy or two...one for you and one for a friend? This would also be an excellent women's study or small group resource.
I'm giving "The Energy of Encouragement" five out of five bookmarks, with a rainbow and a sun as charms...both seem to always lift me up...especially The Son!
Happy Reading!
Deena