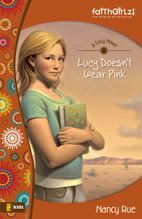 Reason #1,378 why I love my 'job' as a reviewer: I get to read books I most likely would have missed out on. I have two teens, and the youngest is a boy. Odds are, he's not into chick-lit for, as Nancy so adorably calls them, 'mini-women'.
Ya think!!
So, when "Lucy Doesn't Wear Pink" arrived in my mailbox, I was thrilled to try out this new genre of 'mini-women lit'. I love Nancy's books for us more mature readers (better than calling us 'old'!), so I had a hunch I'd love these as well.
I was SO wrong!
I DEVOUR THEM!! Lucy is funny, creative, witty, and so NOT a girly girl (I like to say I'm not "foofy")! This is MY 18 year old daughter a few years ago! Nancy has created a sure hit with this generation of mini-women who 'don't fit in'!!
Lucy's mom and dad were reporters in some of the most dangerous areas of the world. A terrible bombing killed her mom and blinded her dad, leaving Lucy to navigate growing up the hard way.
Her Aunt Karen means well, but...we've all got that one relative in our lives who turns us into projects to fix, don't we, girls? And Lucy wishes in her book of lists that "Aunt Karen would move to Australia"...and that ends up not feeling far enough away!
Then we meet Lucy's band of 6th grade (and even lower) misfits: JJ, Januarie, 'the gigglers', and more. You can't help but love each and every one of them despite their rough edges and...um...nasal secretions:-) When the kids band together to create their own soccer field...they SHINE!
...sort of. It will take the help of new teacher Mr. Auggy to really bring out the true colors of these kids--and TRUST ME, Lucy does NOT wear PINK! With an excellent message of faith that is uniquely presented, little mini-woman Lucy doesn't stand a chance of outrunning God.
Nancy's Lucy series has made me SO ANGRY---I missed out on SOPHIE'S BOOKS!! You can rest assured I'll be tracking Lucy's movements through this entire series, and hunting down Sophie as well!
This series is a must have for girls ages 9 and up--I'm hoping to persuade my 18 year old to read this one. She'll 'remember when' as I did. We both have grown up as misfits (which is actually Biblical, but try to convince a teen aged girl of that!), and have a heart for the misunderstood and shunned.
So does Nancy, and it shines brightly in "Lucy Doesn't Wear Pink". I'd say Nancy's color is pure gold:-) So, I'm giving this first novel in a new series my golden bookmark for literary excellence, with a stuffed, huge soccer ball as a charm. I'm also voting it "Best Mini-Women Lit of 2008" (it's a new category, but competition is getting good in it!).
Happy Reading!
Deena
P.S. Visit Nancy's
newly redesigned websites
...one for mini-women, and one for the rest of us!