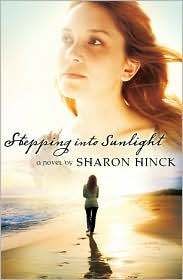 I'm a HUGE fan of Sharon Hinck's writing! Her books are so witty and her characters march right off the pages and into your home. But this one...oh, this one book is exquisite. This is the jewel in her author's crown.
"Stepping Into Sunlight" chronicles the journey of Penny Sullivan. She's just relocated her family to a new home across the country from where she grew up. She's just seen her husband deploy as a Navy Chaplain, away at sea for weeks, even months, during a time of war.
She's helping her seven year old son, Bryan, adjust to his dad's absence and a new school. She's adjusting to life as a Navy wife, with long periods of loneliness and singleness.
But Penny's also been through something we only imagine in our worst nightmares...
she's been the victim of a horrific crime. And the scenes from that crime haunt her every waking moment.
Raised to live up to a standard of perfection by her mother, saddled with a fear of "losing it" and coping with a boatload of stress heavy enough to sink the Titanic...Penny insists on going it alone.
No help. No counseling. No therapy.
Until she shatters. And then, finally...Penny really does begin "Stepping Into Sunlight".
There were moments my heart ached for her. Moments tears welled up and I had to lay the book down and just weep. Moments of laughter, and of surprise. I was so stunned by the sheer beauty of this story, I savored every page. This was a journey I could not rush.
And it is such a timely story for me at this season of my life. Sharon has captured every woman's heart in each of her novels...but this time, she has truly revealed it as a treasure created by God for a purpose. A divine purpose that He will supply every need we have in order for us to meet that purpose.
I cannot encourage you enough to buy. this. book. If it is the ONLY book you buy this Fall, it will be such a wise investment. Give it as a gift to a woman you love who is struggling with healing. With overcoming trauma.
Life is filled with pain. Let Penny and Sharon show you the way out of that dark valley and get you "Stepping Into Sunlight" once again. I'm giving this one the golden bookmark, and voting it best Women's Fiction of 2008!
Read this...and you'll know why I love Sharon Hinck so much.
Happy Reading!
Deena