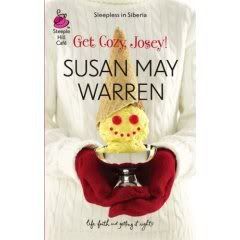 You know the saying, "Great things come in small packages?" Well, the same is true for books--don't overlook Susan May Warren's latest offering from Steeple Hill Cafe!
I first fell in love with Josey in her debut, "Everything's Coming Up Josey". Searching for meaning in her life, Josey signed on for a missions outreach to Russia and ended up finding more than her purpose...she found an entirely new way of life.
In "
Chill Out, Josey
", Josey thought she'd given up enough of her time to the Lord and His mission to Russia. Happy to have found her true love, Chase, she was all ready to settle down as a new family.
Problem is, God wasn't done using her in Mother Russia...and when Chase gets a job offer, Josey is headed overseas again. Armed with her favorite comfort foods (bagels, anyone?), she grits her spiritual teeth and embarks on another adventure of a lifetime.
So, with the final installment, "Get Cozy, Josey!", surely God is merciful and sending her back stateside, right?
Now, come on! What would be the fun in that?? No, instead, Josey's headed off to Siberia...can anyone say brrrrrr??
With family in tow and heart in reluctant mode, Josey makes another attempt at obedience to God's leading. And, by now, Josey's a pro at making this missionary thing work.
The whole marriage thing? Still a work in progress, especially with her rapidly growing family! Can I get an amen in the house?!?
What makes these novels so much fun isn't just Josey--although she's a sister-in-Christ hoot and a holler! No, it's the genuine voice that comes through every word. Our real life Sis in the Lord, Susan May Warren--she lived this journey.
So there's plenty of real life in the fictional life of Josey. And, as one who used to think missionaries had a special dispensation from the Lord (go look it up!), I now realize that they are merely one thing--one thing we all can be.
Obedient.
Yup, that's it. A genuine servant's heart...sprinkle a little adventure on top...and you've got yourself a missionary. Hopefully, we all can do it with Josey's style and flair...and lots of junk food hidden in our luggage!
Don't miss this final chapter in the Josey goes to Russia saga. Hopefully, it will spark the missions gene in you...and yours may be as close as your own back yard--or it could be Siberia!
I'm giving "Get Cozy, Josey!" four out five bookmarks, with a warm, puffy jacket as a charm. Catch Josey as one of the 'new' frozen chozen (and in this case...that's a VERY good thing), and remember where it all started with "Everything's Coming Up Josey"!
To read first chapters of Susan's other Josey novels, click
here
!
Oh, and did I forget something? A CONTEST!! TWO, ACTUALLY:

1) Leave me a comment and you'll be entered to win a copy of "Get Cozy, Josey"

2) Head over to Susan's blog tour post : http://susanmaywarren.typepad.com/scribbles/2008/08/get-cozy-josey.html and leave a comment on that post for your chance to win a Get Cozy gift basket! The basket will be loaded with Godiva chocolate, Starbucks coffee, Harry and David Moose Crunch, gourmet hot cocoa, and a fab pair of snuvvy PJs!

In your comment tell Susan your favorite winter time activity or winter memory!
Happy Reading!
Deena