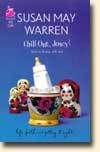 I fell in love with Josey in Susan's first chick lit novel, "Everything's Coming Up Josey". When her heart was broken by her first love, "Chase-Me" (her name for Chase), Josey chooses to "follow God's leading" and runs off to Russia on a mission for God.
A comedy of errors and misteps, Josey showed me that a heart that's confused yet still wholeheartedly seeking God can do amazing things in spite of fear and a smidge of ditz.
Now, Josey finds herself on her way BACK to Russia ("Hey, God, didn't I do my time there?"), this time as a new bride to her Chase, and still not as thrilled to be there this second time around.
To top it all off, just before they touch ground in Mother Russia, Josey finds out **gulp** she's pregnant. But to tell Chase or not to tell Chase? Won't it ruin his plans, and isn't she to be all about Chase's plans?
How does Josey be a dutiful wife, yet be true to Josey? And just who IS Josey now? The new Mrs. Anderson and soon to be mom meets up with new friends and makes a few new ones Josey-style.
When Chase's job goes south, Josey steps up to help, but why doesn't it feel like helping? And who is this Bertha chick? Oh, what a mess, but Josey comes out on top once again....it's just a LONG way there.
I still find myself adoring Josey...Chase-Me, I'm not crazy about! He made me royally mad throughout these pages. Never knew a husband could be SO dense...but ce la vie! Still, this duo of chick-lit novels it tops on my list, and brings the need for mission-minded believers to step out and say, "Here am I, Lord...oh, what am I doing here!"
Mission work isn't glamorous or exciting like we might think. It can be the most lonely, challenging, dirty and wonderful experience you might ever have. And Josey shows us the ropes in an entertaining and yet enlightening way.
Josey is more than a great reading experience. She's a model of stepping out even when you're not totally sure or confident, and in letting God truly have his way and not faking to submit. And just what God can do with us when we let go and let God.
I'm giving both books in this series five out of five bookmarks, with a jar of peanut butter and a bag of popcorn as charms...read the novels and see why, and have fun with G.I. Josey and Chase-Me...and find out why their nicknames fit so well!
Happy Reading!
Deena