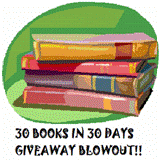 We're into week #3 of our giveaway celebration...the midway point. Remember, on September 30th, I'm announcing the GRAND PRIZE--ONE extra special book, plus ONE book for every 1,000 hits over 30,000--so tell your friends, post about the giveaway (if you leave me your link at the original post site, you'll be entered for a $30.00 gift card to ANYWHERE YOU WANT--that sells books, of course:-)
SO, for THIS WEEK, here's how we'll do this:
1) First, read the
original post
with rules and such.
2) I post a book every day that I'm giving away.
3) You leave a comment at the posted books you'd like to win.
4) YOU MUST TELL ME THE TITLE OF ONE OF BOOK YOU'VE READ BECAUSE OF MY REVIEW.
That's it! Those are the rules for the next 7 giveaways! Now, remember, I'm giving away at least ONE book on September 30th...but the higher my hit counter goes, the more books someone's going to win:-) So spread the word for me...
Today's Giveaway Is: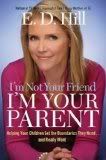 Click the cover to read the review! Leave your comment HERE to be entered:-)
Happy Reading!!
Deena