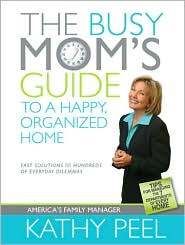 Confession time (I know you love it when I do this:-): I'm a mom to six kids, three of whom have never been blessed to live in my home--step-children. Of the other three, two still live at home.
Of the twenty-two years I've been a mom, I've worked all but four of them. So this is a whole new arena of life I'm in right now.
And I'm praising God for Kathy Peel and her new book! No joke!
"The Busy Mom's Guide to a Happy, Organized Life" can seem intimidating, but it's not. If you read it as a valuable resource, you'll find tidbits and tips for every area of family life.
Kathy gives moms the respect and admiration they are due--which makes sense, since she's a mom herself! She calls us 'home managers' and divides our lives up into seven departments: time & scheduling, home & property, food, family & friends, finances, special events, self-management.
Under each of these seven departments, Kathy offers practical advice and helpful tips on how to keep life from spiralling out of control on an average, ordinary day. Which, in the Peterson home, chaos is the norm right now!
What a timely book for me! Filled with "From the Heart" advice, "Good To Know" tips and "Smart Move" helpful ideas, Kathy's book really is a textbook for home organization.
It's just way more fun to read than any textbook I've ever had! This book is the perfect gift for new moms, newlyweds (although it might seem overwhelming if it doesn't come with a card of explanation), mom's day out groups...I can endless opportunities for using this book!
But I'm giving mine five out of five bookmarks, with a whisk broom and dustpan as a charm. Double bonus, because NOW I'll always know where they are!!
Happy Reading!
Deena