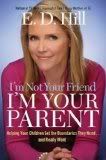 I'm about to violate my own standard for a non-fiction, Christian book. Ready? Here goes--hope I don't blow anyone's expectations for me:-)
This book does not reference Scripture--unless you count one or two side references made by parents quoted by the author. In fact, unless you knew it was published by Thomas Nelson, you most likely wouldn't think it to be a Christian book.
HOWEVER,...
...the principles for parenting laid out in this 200+ paged endeavor of parenting wisdom is SO biblically based and so common sense, how can anyone NOT fall in love with it! I was alternately laughing out loud and shouting "you GO, girl!" to E.D. Hill, that my husband kept interrupting me wanting to know what was getting me all fired up!
"I'm Not Your Friend, I'm Your Parent" has to be in the top five parenting books I've ever read, not counting the Bible (the ULTIMATE parenting guide!). E.D. Hill's words are SO far from politically correct that I'm surprised word hasn't spread like wildfire CONDEMNING it's message!
For her message is loud and clear: as parents, it our duty to raise responsible and respectful and productive adults to release out into society. Better than that, her advice? It's PRACTICAL, and culled from her OWN parenting experiences, combined with those from some of her readers and mail she receives.
This woman has earned the right to give parents counsel on how to parent their children. She's the mom of 8 kids, part of a blended family, and she's quick to admit she's not perfect, and neither are her kids.
Honest, pointed, fair, balanced, and easily supported by Scripture. That's how I'd describe the words written in E.D.'s book. And funny--how she handles her daughter's deception at the movie theater made laugh out loud and want to go for COFFEE with this mom!
She has added two appendices that are contracts for family behavior and driving privileges...and she is clear on what is a responsibility for parents to provide and what are privileges. She's also clear on how and why to take them away!
Seriously. This book was a joy to read. It helped reinforce most of my decisions as a mom, and under girded some of my more shaky moments as a parent. I want to be a part of THIS parenting community she's attempting to build with this book.
"I'm Not Your Friend, I'm Your Parent" gets the golden bookmark from me, and I'm voting it "Best Christian Living Book of 2008"! Get. This. Book.
My recommendation not enough? Check out
HillFriends.com
Happy Reading!
Deena