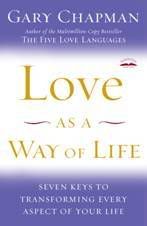 About the book:
For decades Dr. Gary Chapman's best-selling books have shown readers how to speak the "love language" of those they care about. Now he digs even deeper to uncover the foundations of what it means to cultivate a lifestyle of love and how doing so leads to satisfaction and success in every area of life.
Drawing fresh insights from timeless biblical principles, Chapman presents poignant stories of real people who have discovered the joys of living out the seven characteristics of authentic love: kindness, patience, forgiveness, humility, courtesy, generosity, and honesty. Enhanced with eye-opening self tests, practical ideas for building daily habits of love, and inspiring examples of love's power to change lives, this book guides readers in putting love to work in all of their interpersonal relationships.
Convinced that in a world of constant conflict people desperately need authentic love, Chapman paints a compelling vision of how life can be richer and relationships more satisfying for anyone who practices Love As a Way of Life.
About the Author:
Gary Chapman is the author of twenty-five books, including the New York Times bestseller The Five Love Languages, with more than 4 million copies in print. His daily radio program, A Love Language Minute, is broadcast on more than 100 stations nationwide. Chapman, a graduate of Moody Bible Institute, Wheaton College, Wake-Forest University, and Southwestern Baptist Theological Seminary, serves on the pastoral staff at Calvary Baptist Church in Winston-Salem, North Carolina.
My Thoughts:
While you can most definitely hear Dr. Chapman's background in psychology coming through the pages, that is not necessarily a bad thing:-) "Love As A Way of Life" is a desperately needed book in this age of meanspirited behavior that we've found ourselves existing in today.
Dr. Chapman extensively covers the seven basic characteristics of love:
Kindness: discovering the joy of helping others
Patience: accepting the imperfections of others
Forgiveness: finding freedom from the grip of anger
Courtesy: treating others as friends
Humility: stepping down so someone else can step up
Generosity: giving your time, money, and abilities to others
Honesty: caring enough to tell the truth
In the midst of each chapter, Dr. Chapman offers the reader a self-quiz to see just how well he or she is demonstrating that particular aspect of love. It is VERY eye-opening, let me tell you!
If we are to truly win the world for Christ, we must be about two things: 1) His Word and 2) His love. Without either one, we won't win anyone to anything.
If you've read Dr. Chapman's other books, you will definitely enjoy this one.
If you're like me and you've only heard about his work, then start here. I plan on continuing to read his work, and to apply it to my daily life.
Want to win a copy? Leave me a comment, telling me which characteristic covered in the book you most want to develop in your life. I'll pick TWO winners on July 31st!!
Can't wait till then? Have to buy it now? Click
here
, then!
Happy Reading!
Deena