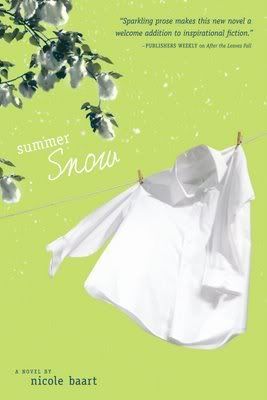 THIS was the novel Nicole Baart was born to write! I enjoyed reading her debut novel, "
After the Leaves Fall
"; I loved reading the sequel to Julia's story, "Summer Snow".
Julia is settling in to the life she now has. Working at Value Foods, living back home with her grandmother, letting go of her dream of college...life isn't great, but it's good.
Then, one night, a surprise lands on her doorstep that changes everything.
Julia's mother, the woman who had abandoned her long ago, has returned. Why is Janice back, and what does she want? Can Julia let her mother back into her life, or is she destined to live with the hardness in her own heart?
More surprises await Julia and her grandmother in "Summer Snow", and in reading this story it just reinforced the notion that life doesn't work out like we plan it, but if we will surrender to God, His ways always are best.
This is something that Julia meditates on throughout the book. There are few overt mentions of God and church throughout the story, but like in the book of Esther, you feel His presence in the pages.
Nicole has a gift for lyrical writing. She can create a phrase that paints a picture in your mind, molding the emotion she is conveying to a perfect quality. You feel what Julia feels; you think what Julia thinks, and you see bits of yourself in all three DeSmit women.
This novel perfectly showcases Nicole's talent, and I hope we see more from her in the future. I don't smell a sequel with this story as I did with her first, but there is definitely more to Julia's tale than just these two novels (**hint!**hint!**).
I'm giving "Summer Snow" five out of five bookmarks with a tiny black pearl as a charm. Please be sure to read "After the Leaves Fall" FIRST so you don't miss out on Julia's story from the very beginning!
Happy Reading!
Deena