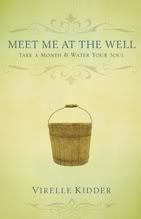 Sometimes I read and review a book because I'm asked to. Sometimes I read and review a book because I want to. This time, I'm reading and reviewing this book because I NEED to.
At one of the driest points in my walk with God, He led me to this book, just sitting on the shelf at the local bookstore. And what a blessing and oasis it has been for me these last few weeks!
"Meet Me At The Well" is a 30 day devotional book for women who are burned out, worn out, give out, drained dry, and parched in the life they are living. With deep insight and wisdom born of experience, Virelle Kidder takes Scripture and refreshes better than any water the world has to offer!
Each day has a story, a Scripture, and some times for reflection that penetrate the layers of dryness that have built up on our souls. And each day says what we all long to say out loud, but are afraid to let escape from our mouths.
Days titled "I'm Dying Here, Lord" and "I'm So Tired Of People Needing Me" spoke to me so solidly and were so healing for me. It was "Yes! Someone gets it! And this is the way out of how I'm feeling" or "It's okay to feel this way...it won't be like this forever, Lord!"
I can't emphasize how refreshing and how healing these readings have been to me. They have given me permission to care for me for this season, to say, "Not right now" to demands and to just rest, heal, and nurture my own soul for a time.
Being in service to the Lord can be taxing...even Jesus took time away to rest and recharge. But being in service to PEOPLE can drain us to the last drop, and not give us time to revitalize and renew. This book can help you see where you're doing one and not the other.
I'm giving "Meet Me At The Well" the golden bookmark, and a tiny bucket as a charm. I thank God He led me to the well and He met me there through Virelle's book. I encourage you to get a copy, either for yourself, someone you know...or for both!
To learn more and to read a sample, click
here
!
Happy Reading!
Deena