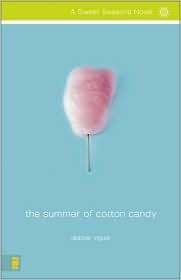 First, a point of clarification: some book sites have this title listed as "Zonderkidz". This is the first book in a series for teens, not children...just thought you oughtta know.
Debbie Viguie has written a novel perfect for summer reading! "The Summer Of Cotton Candy" is the first in her series, "Sweet Seasons", and I'm looking forward to every single one.
When Candace Thompson is told by her dad to "get a summer job or no cash for stuff", she does what any reasonable teen girl would do. Moans about it to her best friend, and then hunts down the job.
What she finds is a position at The Zone, a popular local amusement park. Unfortunately, the good jobs were taken way back in March, so for Candace, it's bathroom janitorial, or cotton candy girl.
So, Candy sells...candy. And you'd think such a simple job wouldn't be such a struggle, but after nearly being hit by a train, having a runaway cart, and being approached by unsavory adult males (thank God for that red panic button!), Candace finds no amusement at this park!
Toss in troubles with her BFF, uncertainty about her new boyfriend, and some backstabbing by one of her park mates, and you've got a novel that seems all light and fluffy, but that really packs some meaty issues into its pages!
I love the heavier novels coming out in the teen lit genre, but this one is like Baby Bear's porridge...it's just right! Not too sappy, not too heavy, and perfect for young and older teen girls. Debbie has sparked my sweet tooth, and I can't wait for more!
I'm giving "The Summer of Cotton Candy" four out of five bookmarks, with a misspelled name tag as a charm. Oh, and watch out for Becca...I just can't tell you why! Oh, yeah, if you're looking for a summer job, you should have started last month:-)
Happy Reading!
Deena