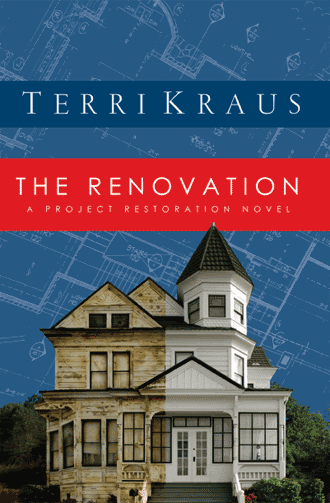 In a world where everything moves at such a fast pace, it's good sometimes to slow down and enjoy a leisurely reading experience. May I recommend the newest novel by author Terri Kraus?
"The Renovation" is book one in her "Project Restoration" series. Remember the words to this old hymn: 'take your burdens to the Lord and leave them there'? (If not, get thee to a hymnal--that's church for songbook!). Those words hold so much more meaning for me now.
Ethan Willis is more than an architect or a contractor. He's into restoring old houses to their original glory. And that's what he's trying to do with the Carter Mansion, a house in Franklin, Pennsylvania--and the new owner is fighting him every step of the way.
It seems that Ethan has a bad habit of wanting things to be the way they were. Which causes him trouble, not just in the area of restoration and renovation, but at home as well.
Things haven't been the same between Ethan and his son, Chase, for some time. But it's not entirely Ethan's fault. Chase carries a secret that is eating away at him, and keeping him distant from his father on earth, as well as his Father in Heaven.
So when Cameron Dane comes to interview his dad about the Carter Mansion, Chase isn't quite sure how he feels about the changes in their lives. Is his dad dating, and how does that make him feel? Can Chase really feel much of anything with the weight he carries?
Cameron sees herself reflected in Chase's eyes, because she carries a secret as well, and it's one that ultimately bonds the two of them together. In such a small town, everyone tends to know everything about everyone else...but in this case, it's what isn't known that causes the most damage.
If you're a big fan of Paige and Trading Spaces, restoring houses, or anything on HGTV, then you'll love this book! If you're a big fan of healed lives and families restored and God's forgiveness, you'll love this book.
Terri's pace is slow and leisurely, a story that soaks into your soul gradually. But the telling leaves you refreshed and revitalized, and the passion for God that permeates the pages is contagious. I'm giving "The Renovation" five out of five bookmarks with a hockey puck as a charm...weird, I know!
Read the book. Then you'll get it.
Happy Reading!
Deena