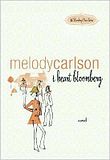 I wasn't sure I was going to like this particular novel. I mean, I adore Melody Carlson, but this book is so different from her other work. The faith element wasn't evident, and yet...it so was! Let me explain if I can...
Kendall Weis is looking for roommates...three of them. She's "inherited" her grandmother's house at 86 Bloomberg Place (the title of this series as well:-), and needs income. Badly. Because, quite honestly, Kendall doesn't work.
She shops.
So, with resumes in hand, Kendall interviews potential roommates. First, Megan Abernathy, aspiring interior designer. Megan is a Christian, but she struggles to demonstrate Christ to shallow and snobby Kendall. Still, Megan needs a room and Kendall seems willing to rent.
Next comes Leilani Porter, back on the mainland and eager for a fresh start. Mystery surrounds why Leilani left Hawaii...and her career in pre-med. But her job at Nordstrom's has her in with Kendall, and she's eager to move out of her aunt's and uncle's small home..for more reasons than one.
Finally, petite and insecure Anna Mendez. Moving away from home at 25 was never so hard! But Anna is determined to cut apron strings and make her way in this big world...and that doesn't include working at the family restaurant! Instead, Anna is a children's book editor who's trying to find her fit...and a room at 86 Bloomberg Place.
Turns out, Kendall wasn't entirely truthful about the house's condition, but with Megan at the helm, the four girls work out a deal and begin renovating the home into what they want it to be...and their lives along the way.
With four girls living in the same house, there's drama, secrets, and laughter as well as tears. This is an engaging cast of characters, and while the faith element isn't huge, it's huge...because instead of talking it, the girls walk it. Which turns out to be vital to Kendall...
...I just can't tell you why! But I can encourage you to embark on this new series from Melody Carlson. I think you'll be surprised at how much you enjoy it. I'm giving "I Heart Bloomberg" four out of five bookmarks (I know, a little low...but there are more books to come!) with a set of house keys as a charm.
Move in to 86 Bloomberg Place and see if your life doesn't take on a bit more color!
Happy Reading!
Deena