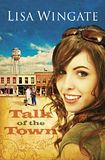 Somehow, in all the piles of books I have in my room, this little one got shoved aside. I was searching for something lighthearted to read, and found a book with a heart as big as Texas.
Daily, Texas, to be specific!
In "Talk of the Town", Lisa Wingate puts a personal face on the reality television craze. In the process, it's made me think long and hard about those kinds of shows and what it really means to want to succeed in life.
Mandalay Florentino is an associate producer for "American Megastar" (think 'American Idol'), and her task is to prepare Amber Anderson's hometown for her 'Final Five' reveal, without spilling the beans.
But in a town as small as Daily, Texas, you just can't count on those beans staying in the can for long! Imagene Doll (who really lives up to her name) finds Mandalay hovering under the Washateria awning and before long the two are fast friends and working together to help make Amber a success.
Questions arise, though. Who spilled the information to the papparazzi? Is Amber really hooking up with Hollywood hunk and bad boy Justin Shay? Will stardom ruin this small town girl with the big heart?
With every page, I kept thinking of Kelli Pickler from a few seasons ago. What has her sudden stardom done to her? Have really good hearted people been ruined by reality television?
There's more to this story than just exposing shows like "American Idol" though. Reading stories like these make me long for small town life, where everyone knows you and cares about you...well, except for people like Betty Prine, maybe:-) When Amber's potential career is on the line...
...you find out real quick that Hollywood ain't no match for Daily, Texas! This is fun, heartwarming, and just what I needed! I'm giving "Talk of the Town" four out of five bookmarks, with an old-fashioned key as a charm. That Donetta's a hoot and and a half, let me tell you!
Happy Reading!
Deena