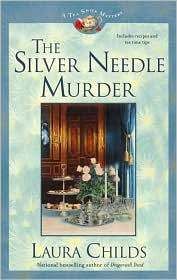 "Silver Needle Murder" is the ninth (WOW!) book in Laura Child's Tea Shop Mystery series, and she just keeps brewing up great stories. With her trademark knowledge of all things tea, and her uncanny sleuthing abilities, Theodosia dives in and solves yet another murder mystery with class and panache!
Charleston is hosting her first ever film festival, complete with big name producers, directors, and their own awards for best in category. Hot property director Jordan Cole is one of their featured industry people, so it's no surprise that the women are flocking to him in droves.
What IS surprising is his untimely murder on the main stage. What drove someone to kill Jordan Cole? Was it his trash talk of editing studio 'Crash and Burn'? Was it his lady love interest and Timothy Neville's niece, Isabelle? Or could it have been rival director C.W. Dredd?
With so many suspects, Timothy turns, rather reluctantly, to Theo to help clear his niece's name. Making her a judge in the short film category, Timothy enables Theo to get 'behind the scenes' and to uncover clues that just might point to the right culprit.
Problem is, now Theo's a target. Or is she? Is it a case of mistaken identity, or does someone REALLY want her off the case?
Drayton, Haley, Miss Dimple and crew are all back for another mysterious adventure and for more tea! Earl Grey, Theo's Dalbrador, gets to take center stage in this one during the short film on service dogs. I just love that pooch!
This is another series I absolutely adore. Laura has created some quirky and lovable characters that continue to be some of my favorites. Plus, it's clean of any "ick" factor...this one includes a seance that is quickly proven to be bunk, so no worries there!
Added to her expert mystery skills, the knowledge of tea and all its origins and locales is always interesting, and always makes me want to hunt down a tea shop and bask in the atmosphere awhile. Only problem is, none can compare to the Indigo Tea Shop, and that's where I enjoy hanging out the most.
As usual, Haley has concocted some scrumptious recipes that are included at the end of the book, along with some tea party ideas that actually sound doable to me, as tea challenged as I am! I highly recommend this cozy series, as it is fun, clean, and always a great read.
My only complaint with this story is what seemed like an abrupt ending. But, then again, Laura's novels are never long enough for me...and the wait between books seems excruciatingly long:-)
I'm giving "Silver Needle Murder" five out of five bookmarks, with a pot of daisies as a charm. For more information on Laura's novels (she has two series going, and is beginning a third soon--YAY), check out her website
here
.
Happy Reading!
Deena