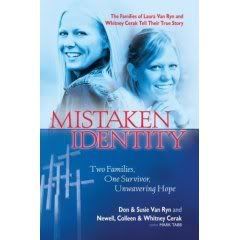 How do I even begin to tell you about this incredible and inspiring story? What in the world can enable a family to survive burying their daughter, only to find her alive weeks later? What can enable a family to care for a young woman they believe is theirs, only to discover their precious sunshine passed home weeks earlier?
What is it? What purpose could be found in this case of "Mistaken Identity"? While I read, I kept thinking of the young man born blind and brought to Jesus. When asked why this young man was blind from birth, Jesus replied, "To bring the Father glory." (I'm paraphrasing).
And what glory and honor the Van Ryn family and the Cerak family have brought to their Lord and Savior through this story. I'm humbled to have been allowed the privilege of reading it, and so grateful to be counted in the family of God with such as these.
From the night the phone calls came, one to make funeral plans and one to rush to a bedside, these two families have demonstrated the power of God over and over and over. To witness the love of the Body of Christ poured out on all of their behalf is mind-boggling.
The faith demonstrated upon realizing the mistaken identity had me breathless with wonder at the strength of God's power in the Van Ryn family. And yet their emotions were honest and heart wrenching, even while giving their God all the praise.
Watching as a third party observer for the grief that the Cerak family endured reminded me of the blessed hope that this is NOT our home, and we will be reunited once again, soon and very soon.
The testimonies of those who were touched by the lives of Laura and Whitney are astounding. I'm sure the cynic exists somewhere out there, but God has seen fit to silence those voices. You can't hear them for the praise coming from His people.
May we all learn how to trust, how to walk hand in hand, how to fall so madly and deeply in love with Jesus and to believe in God so purely as to have a testimony such as this. God is continuing to write the story as the Van Ryn and Cerak families continue to live it.
Never stop praying for these beloved family members. And do not miss this story of the power of God in two families, going through parallel yet reversed situations, and how God is in the midst of it all. And remember those who also died that day, and their families as well.
A golden bookmark adorns this book, and I look forward to the day when we all walk those streets of gold together.
Happy Reading,
Deena