I've been getting some interesting feedback concerning a little book I found and read called "The Shack".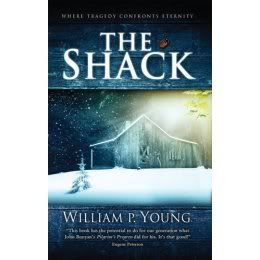 To read my review, click
here
. Just be sure to return, because you need to hear this (or read this, since I'm not actually TALKING to you:-)
I found this book without any of the hype or buzz that surrounds it now. I was just looking for something different, and it appealed to me.
Even after hearing all that I've heard, I stand by my review. But, if you'll note, there were some cautions in that review.
Lately, I've been told that people are buying CASES of this book and giving them out.
PLEASE, STOP DOING THAT! Yes, it's a good story, but it is NOT for anyone and everyone!
This is a book coming out of a movement called "The Emergent Church", and some of their theology is...well, it's just whack! And it can be very dangerous to those who do not know Scripture well enough to defend against it.
Now, if you are a part of the emergent church movement, I humbly apologize for wounding you...but not for what I said. My husband, who is a pastor, and I have done much reading from authors such as Brian McLaren and Leonard Sweet, and we know what we are talking about. (Feel free to disagree..we have that freedom in Christ).
Having said all of that, there is theology in this book that can swing you toward Scripture or away from it, based on how much Scripture you know. And I will say this again, loud and clear (Can you hear me now?)
WE CAN NEVER, EVER BASE OUR THEOLOGY ON ANYTHING BUT THE WORD OF GOD, NO MATTER HOW PRETTY IT IS PACKAGED, NO MATTER HOW WELL IT IS WRITTEN, NO MATTER HOW MANY HEARTSTRINGS IT TUGS ON.
Did you get that? Lest you not believe me, do you know just what a movement was sparked from "The DaVinci Code"? Entire churches were built around the theology presented in that WORK OF FICTION!
Nevermind the impact of "The Secret" on the world today!
So, read the book as a STORY, with interesting spiritual concepts to ponder. But be warned...KNOW YOUR BIBLE before you tackle some of Mr. Young's ideology. Lest you be led astray...that would break my heart.
And on that note...
Happy Reading!
Deena
P.S. Mr. Young has not yet responded to my request for an interview.....hmmmmm....