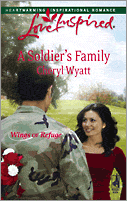 I'm SO excited! The sequel to a novel I just loved has arrived:-)
I'm just diving in myself, but I have SO looked forward to Manny's story (we met him in "A Soldier's Promise") that I just KNOW this is going to be good!
Want to win a copy for yourself?
Leave me a comment, and I'll pick a winner on March 15th!!
Be watching for my review soon!
Happy reading!
Deena