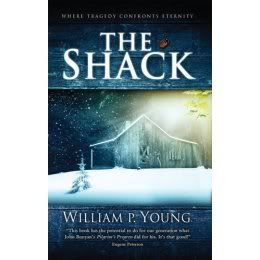 For all of my knowledge about books that are out and are coming soon, I can't believe I almost missed out on this little gem! But in my browsing, I stumbled across a novel that is generating a lot of buzz, and it is well deserved buzz indeed!
"The Shack" is the story of Mackenzie Philips and his Great Sadness. Written in an allegorical style, Mack lives through the unspeakable twice. First, with his father's treatment of him as a young boy. Then later on, with the tragic loss of his youngest daughter, Missy.
When Missy is abducted during a family camping trip, life as Mack and his loved ones knew it is changed forever. The Great Sadness moves in and takes up residence and becomes a permanent part of the family. They grow used to it that way, and Mack survives...and is satisfied.
But a mysterious note sends Mack on a journey back to the site of the tragedy, and on a journey of self-discovery and spiritual insight that will blow your mind. I know it blew mine!
William Young personifies the Trinity--God the Father, God the Son, and God the Holy Spirit in a way that will shock, amaze, and cause you to think deeply about what you believe and what you've assumed. Honestly, this book made my head hurt due to the heavy thinking I was required to do.
Also highly intriguing was Mack's discussion of bad things happening to good people, the age old question that has tripped up many a believer and non-believer alike. The answers you'll read in this short yet gripping book may change your views of God's purpose for this life forever.
Since purchasing my copy of "The Shack", I've noticed a lot of industry buzz about this book, and have even received an email asking me my thoughts about this story.
In one word: amazing.
I'm still processing some of the theology presented in William's novel. You know me well enough to know, don't go messin' with my Jesus or my Bible! But the thoughts presented in "The Shack" aren't contrary to Scripture, at least I don't believe so...just contrary to the way I tend to think about things.
Sharing a debut novel is exciting; sharing a thought changing novel is even more so. A word of caution: whether you're reading fiction or non-fiction, bounce EVERYTHING off of Scripture. Too much bad theology has come from such fictional books as The DaVinci Code and non-fiction as The Secret...we don't need anymore such drivel!
So, read "The Shack". Enjoy the story. Ponder the theology. And I guarantee, once you've joined Mackenzie Allen Philips' at "The Shack", you'll never be the same. And I really don't think you'd want to.
I'm giving "The Shack" the coveted six out of five bookmarks, with a serving spoon as a charm...and you'll just have to read it to find out why! I'm hoping to have an exclusive interview with the author soon...and maybe, even a giveaway. So keep watching!
Happy Reading!
Deena