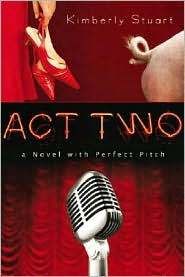 The simple fact that Kimberly Stuart can go from writing about a
new mom living in suburbia
to penning a novel about a diva dwelling on a pig farm in Iowa proves one thing: this author has talent!
Sadie Maddox is a diva who's delightful voice is no longer in demand. Her agent informs that her CD sales have dropped, and her bookings are only half filled halls. So, with some reluctance in her heart, she considers a semester teaching position at a college in Iowa.
Iowa. A far cry from New York. But an encounter with a mystery man in a New York church moves her to say, "Okay." And we have Green Acres, Opera style!
Life on the farm has Sadie in a quandry. First, these people have CHILDREN...offspring. Something Sadie just cannot grasp nor comprehend why people would want such things.
Then there are her students, among them Mallory, a rather snooty assistant who seems to do anything but assist Sadie. And finally, there is Mac...large animal vet and a man bent on showing Sadie a good time in Iowa...assuming there's one to be had!
Life changes for Sadie, and she gradually learns who her friends really are and what really matters in life. But will these lessons last once she returns to her beloved New York? Is Manhattan where things really matter? And can her career rebound with all of the young American Idol type talent coming up the ranks?
I was very pleased to see more of a Christian theme in this novel. The moments where God meets Sadie are so gorgeous, and the contrast between her existence and Jayne's life are so stark and revealing...all without being preachy or over done.
This is by far Kimberly Stuart's best writing. I was pleased with the characters and the subtle romance. I'm giving "Act Two" four out of five bookmarks, with a pair of sturdy tennis shoes as a charm...read the book and you'll know why!
To visit Kimberly's website, click
here
.
To read a sample of "Act Two", click
here
.
To purchase a copy, click
here
.
To visit more of my blog tour friends, click
here
for a list of participating blogs.
To win one of THREE COPIES, leave a comment with your favorite style of music and I'll select THREE WINNERS on JULY 31ST!!
Happy Reading!
Deena