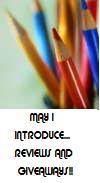 Sometimes, I'm not the target audience for a book. And I realize that early on in the reading of said book. That was the case for this autobiography, but I still feel it is worth sharing with you...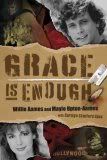 Quite possibly you caught the segment of the Today Show with Willie and his wife Maylo. They were both interviewed after the death of actor Brad Renfroe, and Willie briefly had a chance to mention their book, "Grace Is Enough".
I had already purchased a copy in preparation for this blog festival, and after seeing him and hearing him on the Today Show, I was eager to read his and Maylo's stories.
What lives they have led! Willie grew up desperate to feel like he mattered to someone, to anyone. The youngest in his family, he often felt overlooked and misunderstood. His foray into acting was his chance to make his mark...but acting instead left its mark on Willie.
Maylo grew up with a psychotic mother who followed after a guru named Godfrey (think Jim Jones) and one violent abuser after another. From a very young age, Maylo was exposed to things no child should ever see or hear. Ending up homeless and abandoned, she chose to run away to find a better life...which led her no where.
Now, in my opinion, too much of the book was dedicated to where these two had been. Only the last few chapters, after their salvation, was dedicated to their testimony of life lived in Christ. But, as Willie said on the Today Show...I wasn't their target audience.
And that can make or break a book. Because, had I BEEN their target audience, I would have been turned off early on. The details were graphic, and the language, while merely implied, was frequent. And I don't need to know the gory details of a past redeemed from sin in order to feel the power in the life of a believer.
But some do. Those who are caught up in sin's clutches, those who have a past they just can't seem to overcome, even through the power of the Holy Spirit...those who have taken the Apostle Paul's mantle of "Chiefest of Sinners" upon their shoulders...
THAT is the target audience for this book. Reading what Willie and Maylo lived through and how Jesus has TOTALLY redeemed the years the locusts have eaten in their lives is astounding. The depth of their faith is uplifting. And the behind the scenes look at Hollywood lives is eye-opening.
So, if you know someone still caught in sin's trap, or someone who has a past that is more than checkered with sin, but is potholed with it....or someone who just needs to know the power of Christ to save and to save completely...
They are the audience for this book. I'm giving "Grace Is Enough" three out of five bookmarks, with a script as a charm...and only because it was not the book for me. Don't let that stop it from being a book for YOU.
Happy Reading!
Deena