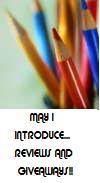 ...It's Biography Month here at My Bookshelf, and I've got some GREAT books to introduce you to!
Hence the name, "May I Introduce...Reviews and Giveaways!"
Yes, some will be given away to those who leave comments...and I will be announcing the giveaways soon!
So, be watching for some incredible biographies about some incredible believers...I'm excited! Aren't you just!
Happy Reading!
Deena