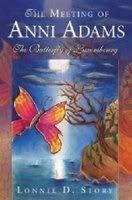 Never in my wildest imaginings could I have ever known the doors that would open for me to review books. I have piles and stacks of books waiting to be read and reviewed. But one of the drawbacks of such book wealth is that some get shoved to the corner, forgotten for a season.
One such gem is a book I received many weeks ago that I'd like to introduce you to. In a day and age when the events of the Holocaust are up for debate, books like "The Meeting of Anni Adams" become oh so important!
This biography chronicles the life of Anni Adams, daughter of a world class gymnast and seasoned traveler by the age of fourteen. Then the Nazi invasion blasted through her life and changed her forever.
Anni endured poverty, humiliation and the fear of the refugee camps that came from the German occupation of her country. Upon returning to her home, she continued to resist the Nazi rule for more than four years.
For homeschool families, this is a rich historical biography that would be a wonderful addition to a history curriculum. More than just another "Diary of Anne Frank", this is an extra look into the events that changed the history of our world, and evidence of an event that so many want to wash away.
More than just another historical account, we see the power that lies behind any event to impact our lives and to change us. Nothing that touches us is by accident, and Anni took to heart the words her father spoke to her: "Anni--learn."
Learn from Anni Adams, and learn how to learn from the events that come into your life. Enjoy the telling of Anni Adams' life story with your family, and I'm giving it four out of five bookmarks, with a thank you note to both Anni and author Lonnie Story for taking the time to chronicle this amazing life.
Happy Reading!
Deena