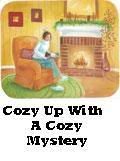 I'm ready to announce the 2nd winner of a Cozy Mystery Giveaway here at My Bookshelf!

The winner of "Murder by Mushroom" is none other than.....

Dodo!!
So, send me your mailing info, and you're book will be on its way!
I'm announcing our 3rd Cozy up With a Cozy Giveaway later today, so stop back and see what's up for grabs this week!
Happy Reading!
Deena