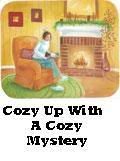 Here's something to look forward to now that Christmas is over and the New Year is on the horizon...
Beginning January 1, 2008, watch for my fireplace graphic...that will signal a "cozy mystery" book review...and EVERY FRIDAY is Giveaway Day:-)
I'm going to introduce you to some of my favorite authors, as well as try out a few new ones and let you know what I think about their cozies. PLUS, I'll tell you about my favorite websites to find out about cozy mystery releases and authors.
So, don't doze off under that new fuzzy blanket you got for Christmas and miss out on some mighty fine readin'! And spread the word...we're gonna get cozy!
Happy Reading!
Deena