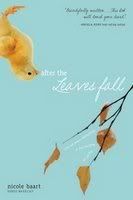 Not many novels intrigue me. Some just entertain, some inspire, and some don't do much of anything for me.
But when I find a novel that intrigues me, I can't wait to chat with the author. I've honed my interview skills a bit, and I'm not so timid anymore! And Nicole Baart, debut author of "After the Leaves Fall" was gracious enough to grant me an interview about her intriguing novel.
So, without further ramblings from me, I present Nicole Baart!!
1) Julia's story is one of great loss. What inspired you to write such a story?
One of my biggest inspirations to write a story like Julia's was the fact that I see so many hurting people. Maybe I'm privy to these hurts because I'm a pastor's wife, but it seems to me like everyone carries deep, life-changing wounds. And we have two choices: either we let these sorrows weigh us down forever, or we accept the holiness and grace of God and allow him to make beauty out of ashes. I know so many people, both Christians and non-Christians, who let their lives be ruled by pain. It's so sad and so unnecessary! When I wrote Julia's story, I wanted to portray a young woman who had experienced incredible loss in her life, but who clung to the hope that even in the midst of her suffering beauty could be found. More than anything, I want people to be able to see themselves in Julia and understand that no matter what they have gone through, God's grace is sufficient for them. As a Christian who is also an artist, I believe that my responsibility is to point to God's cosmos in the chaos of this world. However, I don't think that this means I should ignore the chaos. God's beauty is often seen more clearly against the backdrop of our brokenness.
This philosophy of art and Christianity is something that I am in the process of working through and articulating. I invite you to check out some of my musings and respond--do you think I'm on the right track? Or do you think I'm nuts? Anyway, the following link is a good place to start if you're interested in entering into this dialogue! http://www.nicolebaart.com/2007/10/spirituality-is-sublime-take-ii.html
2) I loved the story of the little chick. Any stories from your childhood that have taken on a special meaning for your life?
Well, it's a little embarrassing to admit, but the chick story is based on a true story. I almost did what Julia does in After the Leaves Fall. Thankfully, my dad intervened before any major damage was done! Also, all of the geography and landscape in the book is taken directly from my experiences growing up in the Midwest. I love Iowa, I love the prairies, and it was so much fun for me to draw from my childhood and write about all of those things that I loved when I was young. Wait--what am I talking about "when I was young"? I'm a grown woman and I still love those things! Winter snowstorms, the painted fall leaves, a brisk, cool wind…
3) The ending to "After the Leaves Fall" isn't all neat and tidy. Why did you leave so many loose strands?
For many reasons. First of all, I suppose, is the fact that I don't believe life is neat and tidy. Sometimes I think Christians can give off the false vibe that if you have God in your life everything else is going to fall into place. That's just not true. Even Christians have horrible, life altering, downright devastating things happen to them. Even Christians deal with the fallout from adulterous affairs, death, bankruptcy, broken relationships, and the list goes on and on. What we don't always articulate well is the truth that when we know the Lord, these things are manageable because he will never, ever leave us or forsake us. But he doesn't promise us a rose garden. He doesn't assure us that we will all have a fairy tale ending on this earth. We know that one day all our tears will be wiped away, but right now we live in the tension between the now and the not yet, and I don't think we do anyone any favors by pretending to have it all figured out. I know many non-Christians who have been hurt by the false promise of a neat and tidy life if only they give themselves over to Christ. I've been a Christian my entire life and I've definitely had my share of sorrows! I think part of living a God-honoring life is accepting the fact that he loves us enough to work with us in the midst of our brokenness. And we are broken, why do we try to deny it?
Another reason I left loose ends is because I wanted to leave the dialogue open for my readers. Personally, I love a book that makes me think. I lean more towards the literary in both my reading and my writing--though I do love the occasional piece of escapist literature when I'm bumming it on the beach! When my family went to Maui a few years back, I made the mistake of taking along The Heart Is a Lonely Hunter, the classic by Carson McCullers. Talk about depressing! I ended up popping into the local corner store and buying myself the latest Patricia Cornwell. It was much easier beach reading. But, that said, I did hope that After the Leaves Fall would have a more literary slant. I hoped to spark discussion. And, if you're interested, a discussion guide for Leaves is available at http://www.christianbook.com. The guide will also be available on my website soon.
Although there are more reasons that I ended Leaves the way I did, I'll pick just one more to expand upon: there's a sequel! When I got towards the end of writing the first book, I realized that Julia's story was far from over. Because we didn't want the first book to be over 700 pages (which it would have been if I "finished" the story), we decided to include a sequel. I think Summer Snow answers many of the questions that are left unresolved in Leaves. But, now that you know my philosophy a bit better, don't expect a "happily ever after," everything-is-peachy-keen-and-perfect ending!
4) Does Thomas ever finally "get it"?

Actually, I think Thomas "got it" by the end of the first book, but he wasn't willing to do anything about it. Have you ever done something that you are deeply ashamed of, but that you are unwilling to apologize for? It's just easier to forget about it, to pretend that it never happened. In my mind, that's exactly what's going on with Thomas. He knows that he has profoundly wounded Julia, but he just can't bring himself to face all of the things in his own personality that led him to do something so hurtful and wrong. He's taking the coward's way out, but unfortunately, many of us do that every single day. I think Thomas is a very real-to-life character.
5) Your book feels multi-layered in its message. If you had to pick one thing for your readers to take away when the final page is turned, what would it be?
You're right, I think After the Leaves Fall is multi-layered and that makes it hard to choose just one thing! But, truthfully, I didn't have a message in mind when I wrote it. There is no specific moral to the story as far as I'm concerned. I suppose more than anything, I want the book to touch people where they are at in their lives. I would love for something in the book to resonate with someone--for a reader to pick it up and be able to say, "yes, this is true." What you take away from it is between you and God. I think he uses different things in our lives to touch us with a fresh perspective at the moment we need it the most. I would be so honored if God so chose to use Leaves in someone's life in that way.
6) I know a sequel to "After the Leaves Fall" is already in the works. Can you give us a hint at the title?
I know the title! It's Summer Snow. The title is taken directly from a scene in the book and I can't wait to see the cover that Tyndale comes up with to complement it! Summer Snow is already far along in the publishing process and it should hit stores in the spring of 2008.
7) What other projects do you have on the back burner that we can look forward to?
I am currently working on a third book that is completely unrelated to my first two Julia stories. It is so much fun to write! It's a bit hard to classify because it doesn't fit 100% into the typical fiction categories. The book is not solely women's fiction, nor is it simply contemporary, suspense, or drama. It's sort of all of the above, similar in style to a Jodi Picoult or Anita Shreve book. I'm writing it from three different points of view, so I'm having lots of fun making the book multifaceted.
8) When it comes to chocolate, are you dark, white, milk, or "justgiveittome"?
Definitely dark if I have the choice, but if chocolate is being offered, I'll take whatever I can get! I'm only a chocolate snob when I'm the one buying.
9) Where's your favorite reading spot?
My husband and I have a squishy loveseat that we bought shortly after we were married. Honestly, I sometimes think that thing was custom made for me! If I put two pillows behind me and two pillows underneath my legs, I can sit sideways in that loveseat for hours. Best of all, it's smack-dab in front of my living room window so I can watch the world go by as I read.
Thanks Nicole, for opening up with me about this wonderful debut novel. I'm so eager to read the rest of Julia's story, and for her to finally find peace...assuming she does and no more loose ends LOL!!
To read my review, click
here
.
To read more of Nicole's thoughts, click
here
.
Happy Reading!
Deena