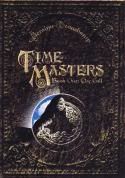 Excuse me a moment, would you? I need to figure out what world I'm in. See, I've spent the past two days lost in the land called Genis Lee, on a quest that rivals anything Lewis or Tolkien ever dreamt of. I've been in the land of the Time Masters...and it was SO hard to come back!
"The Call" is the first release by debut fantasy author Geralyn Beauchamp in a series called Time Masters. It chronicles those beings unknown to us who are able to split time and intervene in world events that make or break history.
Here's an official blurp about this masterpiece:
Get Ready for One Wild Ride! The year is 3698 and the threat of civil war is not only brewing, but near boiling. Kwaku Awahnee, Time Master of Muirara, must pass on his Time Mastership to his pre-chosen successor, Dallan MacDonald, to prevent the inevitable. Councilor John Eaton must tell the unsuspecting Scot of his new office and all it entails. There are, however, a few slight problems. To become a Time Master, the Highlander has to willingly join with a Muiraran Maiden, who, stolen as an infant, hidden in another time, and now grown, must mate or die. Dallan's job of convincing her that she is Muiraran, not human, and persuading her to fall in love with him is a small task compared to their impossible race against time. John's job is make sure the Scot is ready to listen. And then, of course, talk him into it along the way ...
Unfortunately, this description doesn't really do the book justice. You quickly fall in love with each and every character (well, except the evil ones), and the story unfolds like a gorgeous tapestry.
I've been searching for words to fully describe to you what Time Masters is like...
Take the magical creation of Middle Earth, fill it with the mystical faith of Narnia, and toss in a fellowship of unlikely comrades, a quest to find the maiden who is pure of heart and body...a little gladiator style action, LOTS of humor, and romance that will make the hardest heart swoon.
This is epic stuff, dear friends! "Time Masters" grabbed me by the heart and did not let go until the final page was turned (and that was a LONG time, since it's over 550 pages in length!)
I've been told the entire storyline consists of twelve volumes in all, and all I can say is "Yippee!!" The writing is crisp, the humor is heartening and genuine...the passion is deep, and the faith is rich. To sum it up in a word...amazing.
"Time Masters: The Call" receives seven out of five bookmarks from me...seriously, I'm in awe of this woman's talent and storytelling ability. This is a book I can see myself reading again and again, much like I do with The Lord of the Rings and the Narnia books.
Visit Geralyn's page at
Shoutlife
and be watching for a blog tour coming soon. You won't want to miss out on this incredible novel experience!!
Happy Reading!
Deena