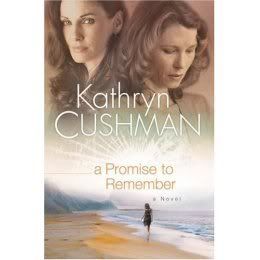 I have to stop doing this. I have to stop reading books where the people are so real I feel like I can pick up the phone and call them. I have to stop reading books about stories that pull at my heart to the point of tears blurring my eyes.
But I can't. It's too good. It's Kathryn Cushman's debut novel...and it. is. gorgeous.
"A Promise To Remember" is the story of two mothers: Andie Phelps and Melanie Johnston. Two women who would have no reason to meet or interact with one another, except they share a common, life altering event.
Their two worlds collide, and the cracks in both foundations these women have laid down are revealed. Hit by hit, blow by blow, each woman is broken down into exactly who God wants them to be.
But the process is painful...gut-wrenchingly painful. This is the kind of novel that takes grit and determination to write. I can't imagine the piles of tissues Kathryn must have gone through getting these words on paper.
But I'm so glad she persevered, for her debut is glorious. Truth about forgiveness and its power to set the forgiver free...truth about how things are not always as they appear...about the power of a real Christian testimony lived out in the presence of unbelievers.
I just cannot say enough about this novel. Many of my friends and readers are fans of Karen Kingsbury...well, if her novels are quality...this is creme de la creme. The emotions felt by the characters in this story pulsate off the page, and you alternate between wanting to shake Melanie and Andie til their teeth rattle, and hug them and weep with them until the light breaks through the clouds of loss.
When there's nothing left but memories, there's a promise to remember...and it is, quite simply, "I will never leave you nor forsake you," Love, Jesus. And that is evident throughout this powerful novel
I give "A Promise To Remember" six out of five bookmarks with a bonus painter's palette as a charm...and a pricing gun as well. Hey, two memorable women each deserve their own charm, don't they? The story of Melanie and Andie will stay with me long after this review is forgotten. It is that powerful.
Pick up a copy of this exquisite novel. And share it with a friend. You'll be so glad you did. Thank you, Kathryn, for such quality fiction. And hey, you spell your name just like my own daughter does:-)
Happy Reading!
Deena