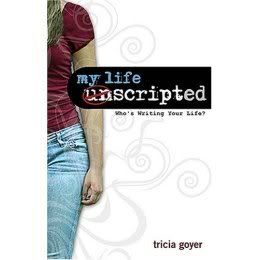 Tricia Goyer is best known for her fiction, but she has written some wonderful non-fiction titles, such as Generation NeXt Parenting. Now she has authored a book for teen girls that is open and honest called "My Life,
Un
scripted".
Taking moments from her own life, Tricia illustrates the necessity for planning what to do before the time to do it arrives. She tackles topics like dealing with peer pressure from both guys and girls, how to handle the search for popularity, and managing relationships with parents the right way.
Trish holds nothing back (click the book cover to read a sample chapter). Even the most painful episodes of her own life are laid open as examples of what young girls face and how to make wise decisions. I applaud her for her honesty, and find this book to be one of the most relevant I've read in a long time.
I only wish I'd had a book like this when I was a young girl. For instance:
FADE IN:

INT. LIVING ROOM--ESTABLISHING SHOT

Young girl of nine years old is having her hair brushed by her mother. A television is playing quietly in the background.

ZOOM IN ON YOUNG GIRL'S FACE

Deena: Mom, do you think God will ever give me someone to love?

Mom: He gave you me and Dad, didn't HE?

Deena: (deep sigh) I know. But I just worry I will never find someone to spend my life with.

Mom: (light laughter) Oh, Deena! You have a long time before you have to worry about that! Why are you thinking of it now?

Deena: Because, I feel like I have all this love inside me to give someone special, and I'll just die if I don't get to give it to him.

FADE OUT

CUE FUTURISTIC MUSIC

FADE IN:

EXT. SHOT OF HIGH SCHOOL QUAD AREA. TWO TEEN GIRLS HOLDING TEXTBOOKS ARE WATCHING A TALL, BLOND AND MUSCULAR BOY IN A FOOTBALL JERSEY AND JEANS.

Sheila: (Harsh whisper) There he is Deena. Go say something!

Deena: But what? I don't even know him!

Sheila: He's Rick's friend, and he's available. Now, go! (she gives her friend a sharp nudge)

Deena: (tears welling in eyes) I can't, Sheila. I don't even know him.

Sheila issues a harsh huff, then grabs her friend by the sleeve and pulls her over to where the boy stands.

Sheila: John, this is Deena. Deena, this is John. (grabs boys arm and drapes it around girl's shoulders)

John: Well, I guess we're going out, huh?

Deena: (blushing) Yeah, I guess so.

FADE OUT

And thus began the bumpy, lumpy journey of struggling to find "the one" that took me places I wish I had never gone. What if I'd had someone to tell me that my value wasn't wrapped up in another person, and that all that love I ached to give? I could pour it out on God.
That's the kind of help that comes from "My Life,
Un
scripted".
This book is also filled with quotes from real life girls of a variety of ages, giving their take on specific topics, such as parents, popularity, body image, and acceptance of self.
Written in script form, the vignettes of Tricia's life are followed up with Biblical discussion and then sections called 4U2Try. Tricia has also interspersed questions, definitions, and opportunities to add your own personal thoughts along the way.
"My Life,
Un
scripted" is real, relevant, and interactive. It's the perfect gift for today's teen girl, and I give it five out of five bookmarks, with a director's chair for a charm.
Wanna win a copy?? Leave me a comment, and I'm picking a winner on October 31st!!
Happy Reading!
Deena